Author: Maria Osula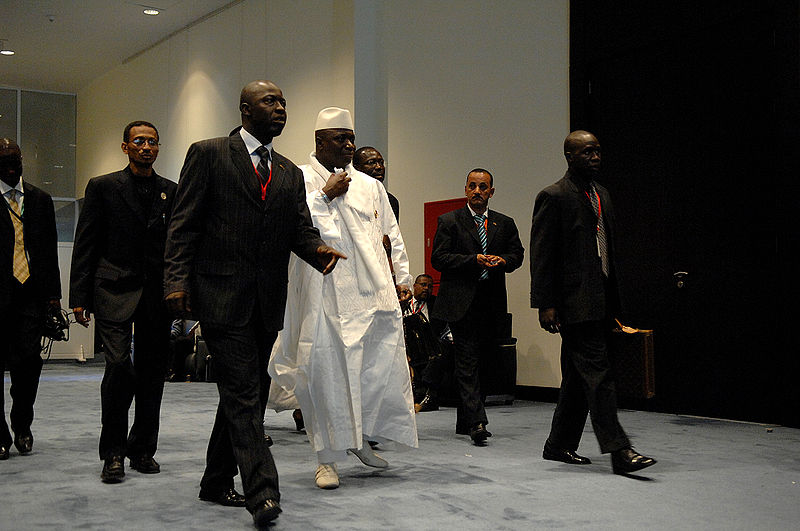 On December 1, 2016, the people of The Gambia went to the polls to exercise their constitutional right to vote resulting in the end of President Yahya Jammeh's 22-year authoritarian regime. What was uncommon of long serving African leaders was that Jammeh accepted defeat and agreed to step down creating space for a new ruler, Adama Barrow, the third since The Gambia's independence in 1965. This was a perfect example of respecting the will of the people in a post-election environment in Africa. Or so we thought!
Maybe it was pressure from close allies or maybe it was not, or it could have been the newly elected president's statements that sent shivers down Jammeh's spine. The newly elected government was going to prosecute Jammeh for his crimes including corruption.  For over 20 years, Jammeh had ruled the Gambia with an iron fist, with corruption and human rights violations being routine. In just a few days, the incumbent withdrew his statement citing electoral malpractices throwing the country into a political impasse that lasted two months.
On January 21, 2017, after several diplomatic attempts at peaceful resolution to the political impasse and advancement of ECOWAS troops towards the capital, Jammeh agreed to step down and left the country. In an interview with the BBC in 2011, then Gambian President Yahya Jammeh said, "I will deliver to the Gambian people and if I have to rule this country for one billion years I will, If Allah says so".[1] Yahya Jammeh's time to leave power had finally reached.
The impasse led to migration of Gambians into Senegal fearing that the worst would happen but there was no bloodshed in The Gambia. Researchers would have predicted it anyway and who wouldn't. Here we have a multi-ethnic country that has been under authoritarian rule for years and also has a huge youth population facing economic challenges, all the ingredients needed for a war. But no, civil war did not erupt.
So why did the Gambia not erupt into post-election violence?
I will make a few assumptions as to why this could have been the case:
The Gambia[2] is a small country surrounded by one large country, Senegal. In fact, it is the smallest country on the mainland of the African continent. It has largely remained peaceful since independence despite a military coup. Senegal, which surrounds The Gambia, has also not really experienced full blown conflict in a region that has been marred by conflict, except for the low level Casamance conflict. Had the Gambia shared borders with an unstable country or one that had a history of civil war, it may have experienced war itself.
Jammeh had few if any allies. He had withdrawn The Gambia from the Commonwealth and from the ICC. Furthermore, in what was seen a flawed election in 2011, Jammeh had lost his credibility with the Economic Community of Western African States (ECOWAS).
While the army is assumed to have been allied to Jammeh, they had kept off the political crisis, not intervening as they termed it a political issue that should be resolved amongst the politicians. Had they used force against the civilians, it probably would have triggered something "unexpected".
Could Jammeh also have had a soft heart and did not want to see his country in turmoil? Well, maybe he did and maybe he didn't but it seems he did not want to further taint his image with the international community.
Unlike most leaders forced to step down, Jammeh can be considered a young leader at the age of 51. This may also have influenced his decision to finally step down and hand over power to Adama. Joseph Kabila, another young president also accepted a deal to step down and not run for a third-term during the Democratic Republic of Congo (DRC) elections. But then again, we have Pierre Nkurunziza of Burundi who has made things a bit difficult when it comes to conducting credible elections.
The Gambia would be a good country to explore and establish facts as to why civil war did not erupt. Jammeh's actions, however, remind us of what we have to look out for in 2017. With 21 countries in the continent expected to hold elections, hoping there will be no legislative changes resulting in postponements, we can only hope for a peaceful handover. It will be interesting to watch how events unfold in Angola, DRC, Liberia, and Somalia which will be conducting presidential elections this year.
[1] Retrieved from BBC at http://www.bbc.com/news/world-africa-16148458
[2] Only two countries in the world have the article 'The' before the name. Gambia is one and The Bahamas is the second. What is interesting is that the leaders thought that the country would be confused with Zambia in the 60s and so included the article.